I'm currently recording my band on a self built hackintosh (AMD Phenom X6) on Mavericks.
Now its time for an upgrade!
I've found this How To, so lets go...
Conditions:
low budget (~400 EUR)
try to use compatible hardware
dual screen setup (hopefully with integrated IGPU only!)
firewire connections for my MAudio Profire 2626
Coffee Lake cpu which can be upgraded later
USB 3.0 for fast transfer of my music project
Hardware:
Using the Amzn links above will support this blog - thank you!
(B = provided an alternative, because currently not available at amazon.com)
Sum = 407 EUR
| | | |
| --- | --- | --- |
| PCIE Firewire Card: StarTech 3 Port 800+400 FireWire I've found on eBay | 65,- EUR | [Amzn.de] [Amzn.com] |
OK.. I decided not to care about the budget when investing in that FireWire card, because I want to do all audio with it!
I've read that the StarTech card uses the same chipset Apple is using in their Macs - so I expect no issues after installation with it.
The Build: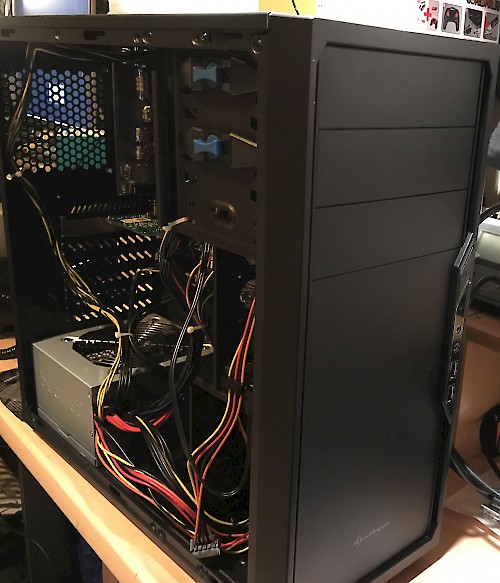 The case looks clean and nice :) But the metal is kinda thin. Does not seem to be very robust when unboxing. Its getting besser after assembly.
Better get a good case if you can - but since this is a budget build I will stick with it.
Here's a pic from inside - there's a lot room for expansion ;)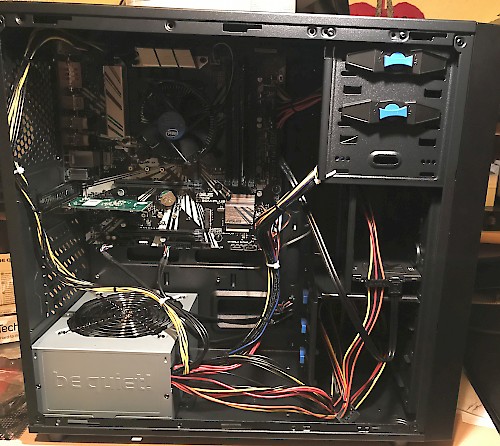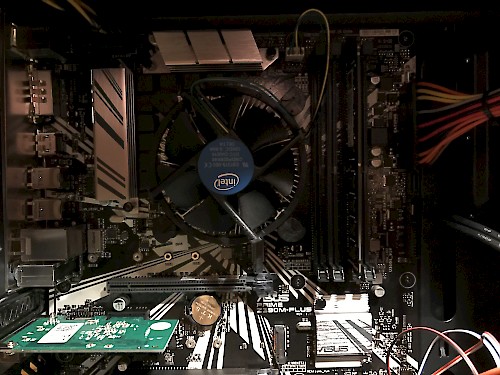 Installation: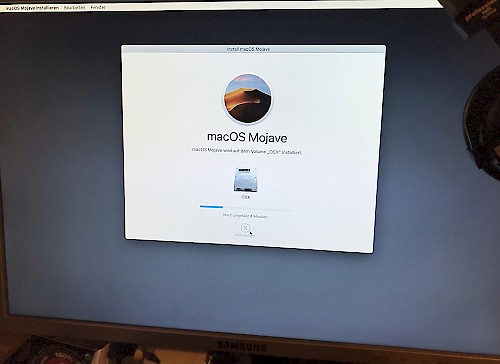 The installation was straight forward. I won't post all steps here again in detail. 
Please follow the excellent description from hackintosher.
I've an old Macbook pro 2009 laying around I've used to create the USB stick with Clover.
Steps:
Download the Mojave Install application
Delete / format the USB stick with HFS+ journaled
Install Mojave to your USB stick
Install Clover on USB
Install Clover configurator on the Mac
Use Clover configurator to setup your boot settings (or use the EFI zip below)
Boot hackintosh from USB
Install Mojave on hackintosh SSD
Reboot several times
Boot hackintosh SSD using Clover bootloader from USB
Install Clover on SSD
Boot from SSD 
Installation DONE :)
FIX problems
For steps 1-6 you will need a access to a macOS. You can use aVM using VMware, I think.
Here's the zipped EFI for putting on your USB Stick.
Download the zip File
Open Clover configurator on your Mac.
Mount the hidden EFI partition 
Delete the existin EFI folder 
Copy the contents of the ZIP in that EFI folder
Problems:
Intel iGPU UHD 630 shows only 6MB memory :(
System halts on Shutdown / Reboot
No USB3 ports are working
youtube safed my life!
After tying to get the Intel UHR 630 graphics to work with hardware acceleration for 2 days .. I've stumbled over this video that includes a zip of their EFI partition :)
Graphics are WORKING :)
Here's the after install EFI zip with graphics working.
Remaining issues
USB3 ports are not accepting my USB stick
Let's ROCK!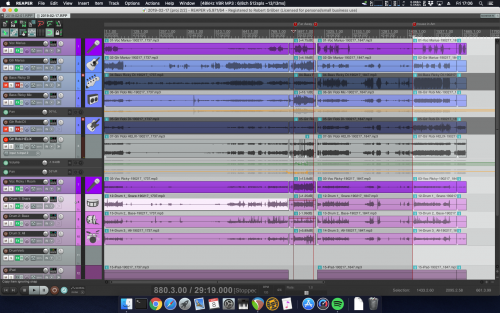 Reaper is working flawlessly with 16 tracks and plugins. :) 
Tags: hackintosh | hardware | apple | PC | Mojave | macOS